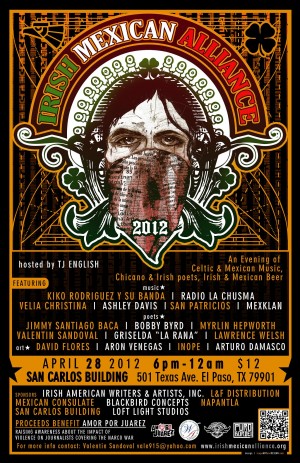 The caliber of talent will turn heads this Saturday, April 28, at the San Carlos Building, but so will the name of the event.
What exactly is an Irish Mexican Alliance?
It's an idea that began in October 2010 in New York City by a group of Irish-American and Latino artists and activists led by TJ English, an author and journalist. After reporting in Mexico on the narco wars, he decided to help fight one ugly aspect of the terror: the murder of journalists targeted for doing their jobs.
Saturday's event, featuring artists, poets and musicians across both cultures, will raise money for Amor Por Juarez, the El Paso-based charity.
"Journalists are being threatened every day as well as being murdered and are seeking asylum in the United States. We have to stop pretending like it's not happening," said English, who has written nonfiction books about criminal justice and the underworld. "The truth is that many Americans choose to believe this has nothing to do with them, when it does. We heighten the crime because the narcos smuggle drugs here because there is a demand for it."
So why Irish and Mexican? What ties the two cultures together?
English, co-founder of the nonprofit Irish American Writers and Artists, mentions the mutual Catholic influence, sociability and fatalistic attitude about life.
There's also the issue of immigration; the Irish, like Mexicans today, immigrated to the U.S. for a better life only to face xenophobia and fear of deportation before their eventual assimilation.
"It's more than just the issue of immigrants – we share a special spiritual connection," said Valentin Sandoval, a local poet, filmmaker and activist who is co-producing the event. "The Irish are like the Mexicans of Europe. They have a strong sense of faith."
There's another historical antecedent: The San Patricios, a group of mostly Irish-American soldiers who fought on behalf of Mexico during the Mexican-American War (1846-48).
Considered traitors by the U.S., the battalion thought of themselves as following their conscience, standing up to what they saw as injustice and imperialist aggression.
Essentially the alliance is invoking the memory of an old war to inspire others to fight peacefully on the right side of a new one.
You don't have to be Mexican or Irish to join the alliance, whose name is a symbol of multicultural solidarity in general, says English and at least one performer.
"I feel very honored to be invited to this event. I have always been interested in visiting El Paso," said Myrlin Hepworth, an up-and-coming Chicano poet from Phoenix. "It's great to know that these types of events are in existence. People should come out and support. We need to embrace our cross-cultural unity in the U.S. Americans are a product of many cultures. This event will be nothing but good vibes."
Other poets will include renowned Chicago poet and author Jimmy Santiago Baca and local wordsmiths Bobby Byrd, Lawrence Welsh and Valentin Sandoval. Bands will include Frontera Bugalu and Radio La Chusma; singer Velia Christina, who will perform songs from her upcoming debut CD; The San Patricios, a local traditional Irish music group; and Ashley Davis, a Celtic singer from New York City. Artists will include David Flores, Aron Venegas, Inope, Arturo Damasco and others.
Details:
The Irish Mexican Alliance
San Carlos Building, 501 Texas Ave.
Saturday, April 28, 6 p.m.-midnight
$12
For more information visit Facebook or www.IrishMexicanAlliance.org.
Irish, Mexican artists ally to show 'Amor Por Juarez' - What's Up: Local News